Knives, Gun Fights, & Cattle Drives! 8 Cowboy Activities Within Walking Distance of ICCE
The Texas ICCE Show has many Wild West experiences within a short walking distance of the knife show (many of which are FREE). Check out 8 things you can do in Texas this March while visiting the ICCE Show, all located within the Fort Worth Stockyards!
1.) Legends Of Texas Gunfight Shows (FREE)
Founded in 1981 in Fort Worth, Legends of Texas is an organization that understands the value of preserving history, particularly American History between 1835 and the early 1900's. To provide a taste of this era, Legends holds events like re-enactment gun fights.
Price: FREE
Every Saturday & Sunday – approximately 11:45 am and 4:15 pm
Stockyards Station
2.) Fort Worth Herd Twice Daily Cattle Drive (FREE)
The Fort Worth Herd is the world's only twice daily cattle drive, held every day at 11:30 AM & 4:00 PM in the Fort Worth Stockyards. The Fort Worth Herd steers can be viewed before and after cattle drives in their pens behind the Livestock Exchange Building on East Exchange Avenue.
Price: FREE
Every Day at 11:30 am and 4:00 pm
East Exchange Avenue
131 East Exchange Avenue-Livestock Exchange Building
Fort Worth, TX 76164
3.) Fort Worth Herd Experience (FREE)
This free, interactive program allows you to meet with the Fort Worth Herd Drovers and see the Fort Worth Herd Longhorns up close. The Herd Expericence will be held every Friday, Saturday and Sunday at 2:00 PM.
Every Friday, Saturday & Sunday at 2PM
Fort Worth Herd Observation Deck
131 East Exchange Avenue
Fort Worth, TX 76164
4.) Cowtown Cattlepen Maze ($6)
Spanning 5,400 square feet, this labyrinth of wooden pathways is always a challenge. Prep for your mission by viewing the maze from a large second-story observation deck. This is also a great place to watch or cheer on your friends and family. Be sure to come back again and again to hone your skills and beat your own best time.
Pricing: $6.00
Monday thru Sunday – 10 am to 6 pm
145 East Exchange Avenue
Fort Worth, TX 76164
5.) Cowtown Coliseum (FREE on Weekdays)
The Cowtown Coliseum located in the heart of the Fort Worth Stockyards has a rich history steeped in Rodeo and the West. The Cowtown Coliseum offers all the modern amenities, yet retains the feel of a historic site. Spectators can sit in air conditioned comfort and view the best in Rodeo and Western action. Doors are open to the public during the week when there are no events. Inside you can also find the Texas Cowboy Hall of Fame!
Monday through Friday 8:30 AM – 5:30 PM
121 East Exchange Avenue
Fort Worth, TX 76164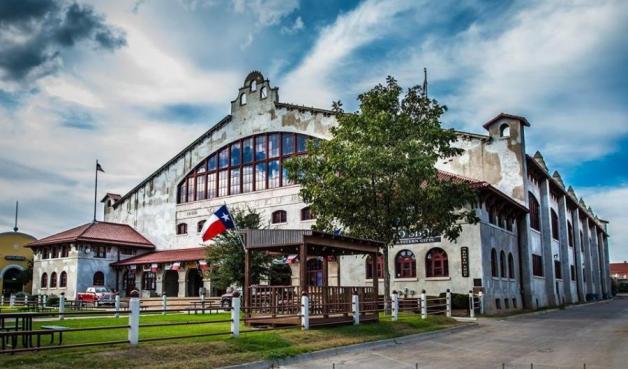 6.) Filthy McNasty's Saloon
Filthy McNasty's is proud to be a part of Fort Worth's western heritage and local music scene for over three generations. Come enjoy live entertainment and dancing, be a part of the rich history of the west in the place where it began. McNasty's is one of many saloons in the area to relax and hangout in after the ICCE Show.
12:00 PM – 2:00 AM
114 West Exchange Avenue
Fort Worth, TX 76164
7.) World's Largest Honkey Tonk, Billy Bob's Texas (FREE Admission)
Billy Bob's Texas is the world's largest honky-tonk. This place is huge (three acres!), with its own indoor rodeo arena for professional bull riding, a Texas-size dance floor, dozens of bar stations, plus restaurants, arcade games, a Wall of Fame with celebrity handprints, and a general store.
Monday – Wednesday11:00 AM – 9:00 PM Thursday11:00 AM – 10:00 PM Friday – Saturday 11:00 AM – 1:00 AM Sunday 12:00 PM to 9:00 PM
2520 Rodeo Plaza
Fort Worth, TX 76164
8.) Western Shops, Apparel, Records, Cowboy Antiques & More!
Authentic cowboy gear, vintage record stores, fashion boutiques – there's shopping for everyone, and no reason to leave the Stockyards without a great souvenir. There are tons of local shops close to the knife show that offer all sorts of western-themed goodies.
See All of the Stockyards Shopping Experiences by Clicking Here.